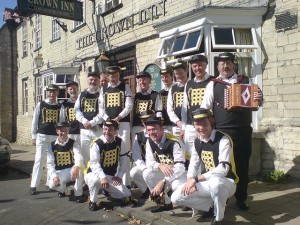 Morris dancing is a great way to learn a new skill, get a bit of exercise, meet some interesting people, as well as learning about England's culture and history.  It also gets you out & about around London, and to far-flung villages & towns across the country that you wouldn't normally think of visiting.
Women are welcome. We are pleased to say that there have been female dancers in the team since 2018 and we would love to welcome more.
Westminster Morris are always looking for new dancers (and musicians!) to join the team – if you've danced in the past and fancy getting back into it, or have just seen dancing somewhere and would like to give it a try (it's not necessarily as difficult as it looks) then why not use the form below to get in touch with us, and we can get you along to practice to get started!
[contact-form to="enquiries@westminstermorris.org" subject="Join Us form submitted"][contact-field label="Name" type="name" required="1″][contact-field label="Phone" type="text"][contact-field label="Email" type="email" required="1″][contact-field label="Do you have any dance or other music-related experience? (This is not a requirement, it is just useful for us to know.)" type="textarea"][/contact-form]
We practice at our hall (in Westminster) from September through to May, on Wednesday nights (except for over Christmas/New Year).  No dancing experience required.