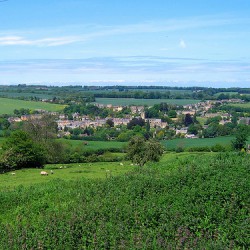 Morris Dancing is a traditional English dance, with different varieties across the country.  Westminster Morris perform dances from the Cotswolds region, which crosses Gloucestershire, Oxfordshire, Wiltshire, and a few other areas.  Once performed by the men in the villages, the dances were specific to a particular town.  As such, the dance traditions are named for the village they come from, for example Longborough, Adderbury, Brackley, Bampton, Headington Quarry, Sherborne, and soforth.  Each tradition has distinctive movements and figures, although the overall structure and shape of dances are very similar.
Cotswold morris is not the only style of dancing referred to as morris dancing – the term is broadly applied also to the North West Clog style dances, the longsword and "rapper" sword dances from the North East, and the rambunctious dances from the Welsh Borders.
Origin
The exact origin of morris dancing remains shrouded in mystery – the earliest records found date from the rule of Henry VI in the 15th century, however it is believed that the dance predates these written accounts.  Some believe it to be a harvest dance, others claim it is a fertility rite.  Some say morris dancing is simply a custom or folk dance.
Revival & popularisation
Very much a localised tradition, morris dancing was seldom heard of or seen outside of the village where it was performed.  During the late 1800s with the coming of industrialisation the dances were thought to be disappearing, so in keeping with the mood of cultural preservation at the time, "collectors" went out into the villages to note down the dances and songs so that they might endure.  Most enthusiastic of these was Cecil Sharp, who had his first encounter with morris dancing during the Christmas of 1899 in the village of Headington Quarry, near Oxford.
In 1907 Sharp published a book of the dances he had collected, and in 1911 a society was formed to celebrate and protect this part of cultural heritage – in present day this is known as the English Folk Dance and Song Society.
Some morris dancing sides that exist today have traceable lineage back to the Traditional village teams of the 1800s.
Folk revival
In the 1950s and 1960s the UK saw a great takeoff of interest in its folk customs, and many new teams were formed – bolstering the numbers after the loss of many dancers during the two wars.
Present day
At the turn of the millenium there were over 800 morris dancing clubs in the UK, and as people travel so too does the custom: there are also sides in Europe, Australia, the USA, New Zealand, and more besides.
In the UK there are 3 supervising bodies representing morris dancing – Westminster Morris are members of The Morris Ring, which is the federation of mens' morris dancing clubs (no longer exclusively male!).  The Morris Federation and the Open Morris represent womens' teams and mixed teams, and the three organisations work together to promote and preserve the dance form.
Further information
This page is by no means exhaustive: there are many more in-depth resources on the web.  Some useful starting points are: