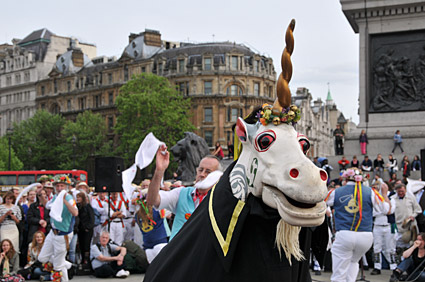 Proudly carrying on the English tradition of Morris Dancing in the heart of London – Westminster Morris are a morris team, with a history going back to 1952 (although morris dancing itself is much, much older than that).
We perform dances from a number of the Cotswold village traditions, including Longborough, Fieldtown, Headington Quarry, Sherborne, Bampton, Ilmington, Adderbury, and Badby.  Each dance has its distinctive features, as well as sharing similarities & structural elements with other dances.
The group is a diverse mix of ages, genders, backgrounds and – latterly – nationalities: we've got English mechanics, Scots bus conductors, American IT guys, Australian whisky experts, engravers, salesmen, and all sorts besides.  It's an eclectic group who all share the common interest of performing for audiences around the country and sharing the fellowship of the morris.